Addiction Treatment Center
Cherry Hill, New Jersey
For over a decade, All In Solutions Counseling Center Cherry Hill has provided loving high-quality inpatient and outpatient addiction treatment that transforms the lives of our patients and their families. 
All In Solutions Alcohol & Drug Rehab in Cherry Hill, New Jersey
Welcome to All In Solutions, where we strive to provide more than just the most comprehensive addiction treatment programs in New Jersey; we aim to cultivate a family of recovery, growth, and support. We offer inpatient, outpatient, and medication-assisted treatment plans.
Our clinical team focuses on providing clients with the education, techniques, and support needed to sustain long term recovery. Our group curriculum utilizes proven, evidence based and cognitive behavioral techniques, delivered in a setting that promotes healing, openness, and personal growth.
Located in Cherry Hill, NJ, our JCAHO-accredited treatment facility is conveniently near Philadelphia, PA and Trenton, NJ in the heart of Camden County. Just miles from several Jefferson Health and Virtua Hospital locations, All In Solutions is a proud leader in New Jersey behavioral healthcare.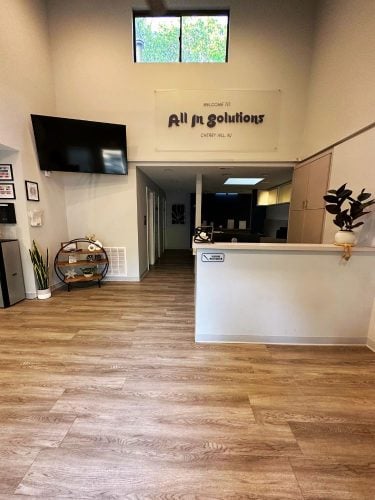 Cherry Hill Addiction Treatment Programs
Clients at All In Solutions' comprehensive drug and alcohol rehab programs in Cherry Hill have the freedom to create a recovery plan that meets their specific requirements. Our physicians, therapists, and support staff members create a warm, family-like atmosphere that encourages clients to look inside and make long-term changes. Here, clients can get the treatment they need to recover from addiction and tend to their mental health.
Accredited New Jersey Addiction Provider
Our New Jersey Treatment Center
All In Solutions Counseling Center Cherry Hill is modern, clean, and designed with patient comfort in mind. Our sober living houses are comfortable, supervised, and well-kept. Here, nothing will keep you from experiencing the transformational power of high quality substance abuse and mental health counseling. 
Your Insurance May Cover Addiction Treatment
Did you know that most health insurance plans provide coverage for substance use disorder treatment? Submit your policy information below for a free, confidential review of your benefits. All In Solutions accepts most health insurance plans.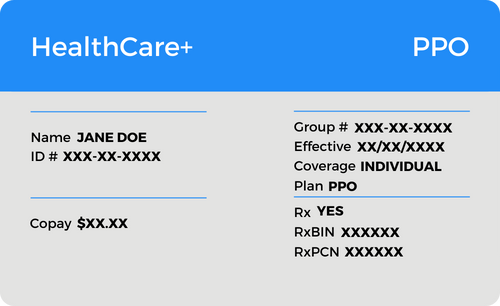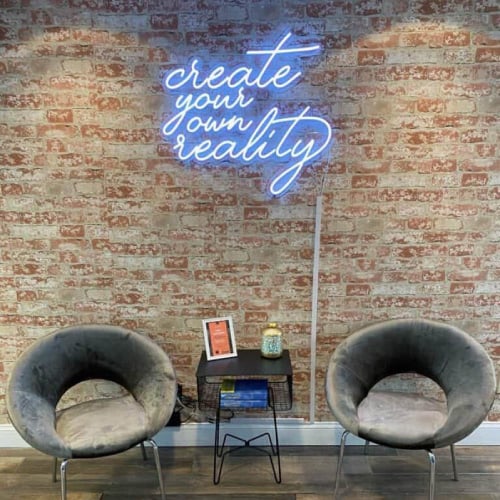 Why Choose All In Solutions?
In over 11 years in business, countless patients have placed their trust in the experience and expertise of All In Solutions Counseling Center Cherry Hill.
Experienced Addiction Experts
Over 11 years experience helping addicts and alcoholics recover.
More than 3000 alumni living happy healthy sober lives.
Hundreds of 5-star reviews from satisfied patients and family members.
Accredited by the Joint Commission for providing exemplary care.
National Association of Addiction Treatment Providers member.
Inside Our Cherry Hill Treatment Facility
Take a look around All In Solutions Counseling Center Cherry Hill, and meet the people who make it such a special place to start your recovery.
All In Solutions New Jersey Levels of Care
Partial Hospitalization Program (PHP)
Our standard PHP addiction program provides a controlled atmosphere for individuals who have just completed detox or residential treatment and focuses largely on the management and education of post-acute withdrawal symptoms. The traditional approach looks at coping mechanisms for anxiety, physical pain, cravings, and desire management, among other topics. In addition, the curriculum is evidence-based and incorporates a mental health education component to assist clients understand the mental, emotional, and physical aspects of the withdrawal process.
Intensive Outpatient Program (IOP)
Our intensive outpatient program is designed to help clients who have just completed a PHP or residential treatment program and are searching for assistance in their daily life. This program is largely focused on assisting clients in becoming self-sufficient in the community, with a plan in place for long-term mental health maintenance and continuing sobriety following treatment completion. Clients participate in a variety of individual and group therapy sessions focused on improving or recovering social skills, independent living abilities, and practical life management skills in order to best support their psychological, physical, and social health.
Outpatient Program (OP)
Our outpatient program is designed to give clients continued support after they have completed our IOP but require assistance in their daily lives. The goal of this stage of the recovery process is to help clients maintain their independence by focusing on relapse prevention and long-term sobriety. Clients participate in a combination of individual and group therapy sessions tailored on their particular requirements, all of which are designed to help them develop a strong support system as they navigate life while remaining sober.
Opiate Addiction Treatment Program
Clients require intensive therapy care in an organized and safe setting after detoxing from opiates. Clients in our opiate recovery program have the choice of participating in inpatient and outpatient rehab programs, as well as medication-assisted therapy. Individuals suffering from oxycodone, fentanyl, vicodin, dilaudid, and heroin addiction are treated in our opioid addiction treatment program. We blend therapeutic techniques, 12-step programs, and peer-to-peer recreational activities.
12 Step Based Recovery Program
Our 12-step addiction recovery programs, which are based on the 12 stes of Alcoholics Anonymous (AA), assist clients in establishing a foundation in recovery that may be sustained once they leave treatment by following the fellowship with which they have been acquainted. This program offers a spiritual solution that is both practical and accessible.
Medication Assisted Treatment (MAT)
Medication-Assisted Treatment, also known as MAT, uses medications such as Suboxone, Vivitrol, and Methadone. This sort of program has proven to be incredibly effective and is one of the most important therapies for people who are addicted to opioids, alcohol, or other substances. All In Solutions offers a patient-centered, tailored MAT program to help individuals in early recovery speed up their recovery and provide extra stability to those in long-term recovery.
Dual Diagnosis Treatment Program
People who battle with alcohol and drug addiction frequently have co-occurring disorders such as depression, anxiety, PTSD, bipolar disorder, dissociative personality disorder, borderline personality disorder, OCD, and eating disorders. To address both the drug use problem and the mental health concerns, our dual diagnosis treatment program employs therapies such as cognitive behavioral therapy, dialectical behavioral therapy, individual counseling, and other kinds of treatment.
Alcohol Addiction In Cherry Hill
Across America, alcohol is the most widely accessible and most commonly abused drug. According to the National Institute on Alcohol Abuse and Alcoholism, over 1 million Americans seek treatment for alcohol use disorder (AUD) every year. Cherry Hill and the rest of Camden County are no different. Because of alcohol's cultural ubiquity, it affects many lives and is generally left unregulated for far longer than other drug addictions.
Alcohol Rehab & Alcoholism Treatment Program
Detox is a necessary first step in the treatment of many people who are addicted to alcohol. Patients are overseen by doctors and skilled medical professionals in a medical detox facility, who give treatments to prevent serious withdrawal symptoms such as seizures and delirium tremens. After a person has successfully detoxed from alcohol, they may begin therapy for the psychological and emotional issues that are at the root of their alcoholism. Cognitive behavioral therapy, dialectical behavioral therapy, and other psychologically-informed treatments that repair the brain circuits hijacked by addiction are examples of evidence-based therapies used to treat alcohol addiction.
After completing inpatient and outpatient alcohol treatment in Cherry Hill, a patient may desire to stay in the neighborhood to continue their recovery. Moving into a structured sober living situation where they may be among other individuals in recovery might be beneficial for some folks. In Cherry Hill, several sober living homes, sometimes known as halfway houses, provide accountability and drug testing.
South Jersey also boasts a thriving recovery community with tons of 12-step meetings available all throughout the area. For more information on AA meetings in Cherry Hill, you can visit the AA South Jersey Intergroup website. 
Drug Addiction In Cherry Hill
Opioid Addiction
Prescription opioids are often abused in Camden County by people from all walks of life. These medicines are widely overused, even though they are designed to help with severe physical pain, surgical operations, or cancer. People like prescription drugs because they provide them a sense of detachment, relaxation, and relief. Unfortunately, prescription painkillers are so potent that simply trying them out may quickly become an addiction.
Following a spike in opiate overdose deaths and substance abuse-related arrests in 2013, Camden County created the Camden County Addiction Awarness Task Force to address the public health crisis brought about by the opioid epidemic. Since then, the introduction of fentanyl to the supply of illegal narcotics has only magnified the problems related to opiate addiction in New Jersey.
Fentanyl is 100 times more potent than morphine as a narcotic. Dealers in South New Jersey (and around the United States) are utilizing it to prolong their supply and maximize their earnings because of its high potency. In Camden County, a kilogram of heroin is believed to be worth over $80,000, whereas a kilogram of fentanyl is just approximately $5,000. Dealers who convert from heroin to fentanyl might enhance their profits dramatically. Unfortunately, because most people who misuse opioids are unaware that their drugs include fentanyl, they may overdose by accident.
Benzodiazepine Addiction
While opioids have received a lot of attention as the cause of the addiction problem, benzodiazepines like Xanax are also highly addictive and commonly overprescribed. In fact, Xanax was the most often prescribed psychiatric medicine in the United States as recently as 2016. Regular benzodiazepine usage, whether prescribed by a doctor or obtained illegally, may soon grow into an addiction. Xanax has a higher "misuse liability" than other benzodiazepine addiction and dependency possibilities, according to research. As a result, the development of benzodiazepine addiction has not been limited to South Jersey.
Regardless of one's drug of choice, All In Solutions Counseling Center Cherry Hill has a treatment program that can help. And for those who have completed treatment, an active recovery community around Narcotics Anonymous is available in South Jersey. 
Real recovery is about more than just abstinence from drugs and alcohol. It's about shedding the depression, anxiety, fear, and self-doubt that accompany drinking and drugging. At All In Solutions, clients awaken to their potential and begin to thrive.
About Cherry Hill, NJ
Cherry Hill is a township within Camden County, in the U.S. state of New Jersey. As of the 2020 United States Census, the township had a population of 74,553, reflecting an increase of 3,508 (+4.94%) from the 71,045 counted in the 2010 Census, which had in turn increased by 1,080 (+1.01%) from the 69,965 counted in the 2000 Census. As of 2020, the township was the state's 12th most populous municipality and the largest in Camden County, after having been the state's 13th most populous municipality in the 2000 Census. Cherry Hill is a suburb of Philadelphia and with the decline of downtown Camden has become an edge city and one of the region's main commercial centers. Cherry Hill is situated on the Delaware Valley coastal plain, approximately eight miles (13 kilometers) southeast of Center City, Philadelphia. == History == The area now known as Cherry Hill was originally settled by the Lenni-Lenape Native Americans before being displaced by the first settlers from England, namely Quaker followers of William Penn who arrived in the late 17th century. The first settlement was a small cluster of homes named Colestown, in the perimeters of what is now the Colestown Cemetery on the corner of Route 41 (King's Highway) and Church Road. The municipality was founded on February 25, 1844, in Gloucester County as Delaware Township from half of the area of Waterford Township and became part of Camden County at its creation some two weeks later on March 13, 1844. Portions of the township were taken to form Stockton Township (February 23, 1859) and Merchantville (March 3, 1874). At its territorial peak, Delaware Township included all of modern-day Cherry Hill Township, as well as the neighborhood of North Camden and the municipalities of Merchantville and Pennsauken (including Petty's Island in the Delaware River).
Neighborhoods in Cherry Hill, NJ
Woodcrest, Ellisburg, Barclay-Kingston, Cherry Hill Estates, Society Hill, Springdale, Greentree, Wexford East, Colwick, Ashland, Willowdale, Windsor Park, Golden Triangle
Things To Do in Cherry Hill, NJ
Bus Stops in Cherry Hill, NJ to All In Solutions Counseling Center
Bus Stop in Bolt bus Cherry Hill, NJ to All In Solutions Counseling Center
Bus Stop in Rt-38 at Cherry Hill Mall Dr Cherry Hill, NJ to All In Solutions Counseling Center
Bus Stop in Rt-70 at Curtis Ave Cherry Hill, NJ to All In Solutions Counseling Center
Bus Stop in Rt-38 at Pedestrian BRIDGE157 Cherry Hill, NJ to All In Solutions Counseling Center
Bus Stop in Haddonfield Rd at Church Rd Cherry Hill, NJ to All In Solutions Counseling Center
Bus Stop in NJ 70 at Covered Bridge Rd Cherry Hill, NJ to All In Solutions Counseling Center
Bus Stop in Rt-70 850'w of Haddonfield Rd. Cherry Hill, NJ to All In Solutions Counseling Center
Bus Stop in Rt-70 at Grove St Cherry Hill, NJ to All In Solutions Counseling Center
Bus Stop in Cherry Hill Cherry Hill, NJ to All In Solutions Counseling Center
Bus Stop in Rt-70 at Edison Ave Cherry Hill, NJ to All In Solutions Counseling Center
Bus Stop in NJ 70 at McClellan Ave Cherry Hill, NJ to All In Solutions Counseling Center
Bus Stop in Haddonfield Rd at Garden Park Blvd. Cherry Hill, NJ to All In Solutions Counseling Center
Reviews for All In Solutions Counseling Center Cherry Hill, NJ