Benzo (Benzodiazepine), Valium, Klonopin, and Xanax Addiction Treatment Center
Understanding Xanax (Benzodiazepine) Addiction
Regular Xanax usage, whether prescribed by a doctor or obtained illicitly off the street, can rapidly lead to a Xanax addiction. Xanax has a higher "misuse liability" than other benzodiazepines according to some studies, more often resulting in dependence and addiction. In other words, Xanax is more prone than other benzodiazepines to cause addiction, yet it is not only the most often prescribed benzodiazepine in the US, but also the most commonly prescribed psychiatric medicine. Even individuals who take Xanax for as little as 1 week can experience withdrawal symptoms when they discontinue the medication.
Long-term usage of benzodiazepines such as Xanax is not recommended, yet it is widespread. Even the smallest quantity of .25 mg Xanax used once a day can become addicted over time. According to studies, one of the reasons Xanax is so addictive is because it causes "a more complicated and, in some aspects, unique rebound anxiety compared to other benzodiazepine withdrawal." After discontinuing or reducing the amount of a medication, "benzo rebound anxiety" occurs, which is the temporary return of much worse anxiety symptoms. Rebound anxiety might persist anywhere from 1 to 14 days.
Xanax Withdrawal Symptoms
As previously stated, Xanax has certain unique withdrawal symptoms, but it also causes all of the standard benzodiazepine withdrawal symptoms. Many people even get neuropathy as a result of benzodiazepine discontinuation. There have also been multiple accounts of alprazolam discontinuation causing delirium and psychosis. As previously stated, the amount of Xanax that produces withdrawal depends on the length of time that it is taken, however withdrawal symptoms can occur even when used for as little as a week.
Tremors and muscle spasms
Increased heartrate and hyperventilation
Anxiety and panic attacks
Insomnia
Hallucinations (auditory, visual, and tactile)
Grand mal seizuers
Many individuals who have become dependent on benzodiazepines are worried about the likelihood of severe withdrawal symptoms like seizures when they try to quit. According to a study published in the British Journal of Clinical Pharmacology, between 15% and 44% of those who use benzodiazepines for an extended period experience moderate to severe withdrawal symptoms. 
The timeline for benzodiazepine withdrawal varies according to the drug and dosage. Xanax, however, has a relatively short half-life, which causes withdrawal to occur more rapidly upon cessation. The acute withdrawal period generally begins one to three days after quitting, and symptoms can persist anywhere from five days to 4 weeks. Many people also endure protracted withdrawal symptoms, which can continue up to a year.
Those who have no past experience detoxing from narcotics may frequently ask their doctor to ease them off their dose of Xanax. The manufacturer suggests a taper of no more than 0.5 mg every 3 days for lower dosages and persons who have been taking Xanax for a shorter amount of time. Despite taper lengths of up to four weeks, 27 percent of patients experienced more severe rebound anxiety than before therapy, and 35 percent experienced new physical withdrawal symptoms.
Patients who take high doses, have polysubstance dependence, had above average pre-treatment anxiety levels, or have been diagnosed with other personality disorders are more likely to experience severe withdrawal symptoms. It is therefore recommended that these patients detox at a medically supervised inpatient level of care. Trying to quit taking benzodiazepines like Xanax "cold turkey" is not recommended. 
A doctor at a medical detox clinic will start tapering a patient's Xanax dose or substitute it with a longer-acting benzodiazepine and taper down from there. During the taper, medical personnel keeps a careful eye on the patient for any bad effects. The majority of the time, doctors will give non-narcotic "comfort drugs" to aid with the unpleasant withdrawal symptoms. Clonidine, carbamazepine, and gabapentin are examples of non-narcotic benzodiazepine withdrawal therapies.
Treatment Is Covered By Insurance
Insurance can cover up to 100% of the cost of addiction treatment. All In Solutions accepts most private health insurance policies
Xanax Addiction Treatment Centers - Benzo Addiction
Despite the long-term effects of Xanax and benzodiazepine use, recovery is possible. All In Solutions provides men and women with the care and compassion they need to combat long-term risk and relapse.
We provide our patients with medicinal and behavioral addiction services designed to help balance their brain chemicals and learn how to cope with the imbalances from addiction. Although recovery from Xanax and Benzo usage can be a strenuous process, All In Solutions' mission is to help those struggling regain a life worth living.
We encourage those suffering not to wait, and to let us provide you with the treatment you deserve. Our staff believes that there is always a light at the end of the tunnel, and our team stands behind the concept that you need to be "all in" to excel in recovery from a substance use disorder truly.
From start to finish of Xanax abuse treatment, clients will feel the same love, compassion, and empathy they once wished they had during active use. Recovery comes in all shapes and sizes, and we think it is in an arm's reach if a client is fully willing to work for a new, happy life.
Xanax Rehab Levels of Care
Short Term & Long Term Inpatient Rehab – Once an individual has been physically cleared by a detox and residential stabilization, Partial Hospitalization Programs (PHP) are the next level of care. PHP is where the true healing occurs for the mental health components that can impact benzodiazepine addicition recovery. Some individuals may benefit from a shorter length of stay, while others may prefer a long-term inpatient treatment plan.
During PHP, clients engage full time in evidence-based clinical therapies including: cognitive behavioral therapy (CBT), dialectical behavioral therapy (DBT), gender-specific group counseling, individual counseling, and psychiatric medication management.
Short Term & Long Term Outpatient Rehab –  After completing inpatient rehab, many choose to continue their treatment in an intensive outpatient program (IOP). IOP provides an extension of high levels of accountability and assistance as clients begin to make the transition back to normal life. While still living at home or commuting from a sober living community, patients can continue to attend treatment and recovery meetings on a daily basis.
Because residential therapy is not practical for those who may have job or family obligations, it may be beneficial for individuals who still need extensive assistance or do not yet have a strong support network outside of the clinical setting.
Addiction Counseling – Once an individual develops a foundation of recovery, they may choose to meet with a counselor or therapist on a regular basis to hold them accountable and offer them continued support. This can be especially helpful for those who do not participate in recover fellowships like Alcoholics Anonymous, Narcotics Anonymous, or SMART recovery.
Additionally, substance use disoders are accompanied by other mental health issues in more than 9 million US individuals. In most cases, it is impossible to know which is the cause and which is the effect. In either case, those struggling with co-occuring disorders can certainly benefit from the professional help of a therapist, counselor, psychologist, or psychiatrist.
Specialized Addiction Programs at All In Solutions
For clients who have been to treatment before and relapsed, it can be helpful to supplement "traditional" treatment techniques with something else. All In Solutions offers alternative programs that clients can choose to add to the treatment program that their therapist prescribes. These programs include gender-specific programs, faith-based recovery programs, and medication-assisted treatment plans. 
Benzodiaepine Addiction Center FAQ
Start Your Journey To Recovery
The life you deserve is waiting for you to pick up the phone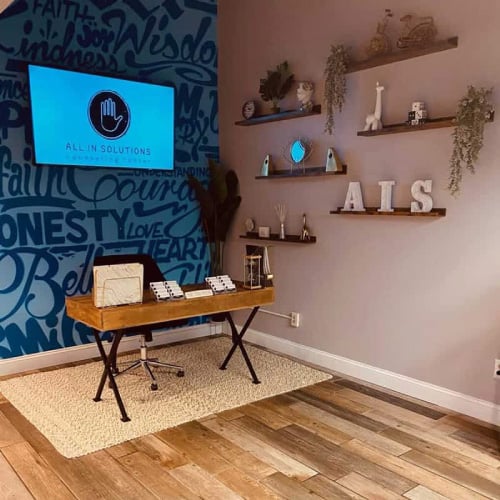 Just outside of Philadelphia, PA, All In Solutions Counseling Center Cherry Hill is in the heart of Camden County, New Jersey. Click the link above to learn more about our New Jersey treatment center.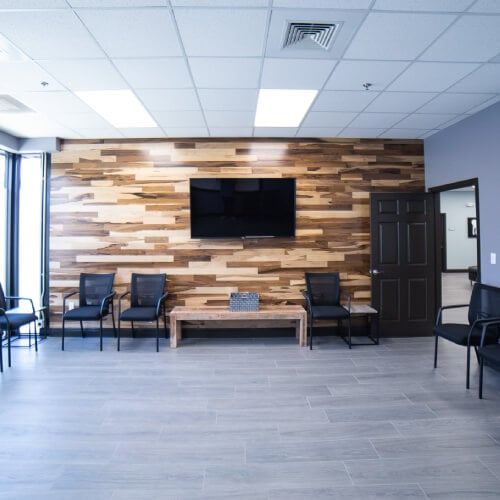 In sunny South Florida, All In Solutions Counseling Center is located in Boynton Beach, just miles from Boca Raton, Delray Beach, and West Palm Beach. Click the link above to learn more about our Florida treatment center.