Addiction Treatment Center and Drug & Alcohol Rehab
Freedom From Addiction Starts at All In Solutions
Join a family of recovery from substance use disorder when you start your sobriety
with inpatient or outpatient drug & alcohol programs
Start Your Recovery Today By Calling Our Treatment Admissions Team
24/7 Free Confidential Addiction Helpline
Over a Decade in Business Treating Substance Abuse
Multiple Locations & Levels of Care Offered 
Individualized Treatment Plans Combining Evidence-Based & Holistic Methods
"All in Solutions gave me my sister back and I will be forever grateful! The staff worked so well with our entire family, and really showed that they truly care about each individual who seeks help there. It was truly a life changing experience." – Allie H.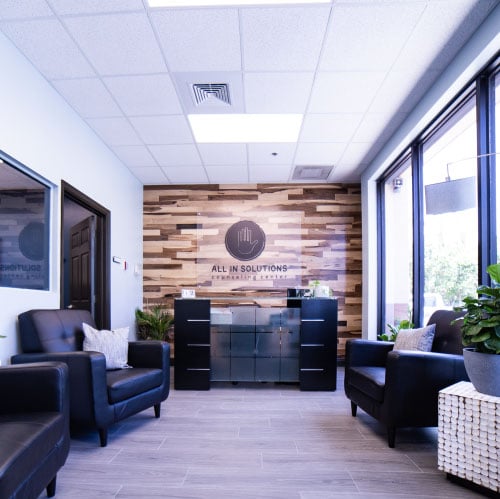 Welcome to All In Solutions Counseling Center
All In Solutions is here to provide more than just best in class substance abuse and mental health treatment. Our inpatient and outpatient addiction treatment programs are designed to provide a foundation for lasting recovery by inviting clients to join a family of support that extends far beyond discharge.
We want to be a part of your transition to a happy healthy life in which you thrive. We're All In on your recovery. Are You? 
An Accredited Leader in Behavioral Health
At All In Solutions, we are committed to maintaining a standard of excellence in substance use disorder and mental health treatment. All of our treatment programs are recognized and approved by national and state governing bodies, as well as accredited by The Joint Commission.
In addition, our Boynton Beach and Cherry Hill locations are both proud members of the National Association of Addiction Treatment Providers. 
Fully Individualized Treatment Programs
Each individual seeking recovery has a unique story and different motivations for confronting their addictions. Two patients with distinct life experiences, mental health challenges, and treatment histories will respond differently to therapeutic efforts. For this reason, we reject the cookie-cutter model of treating clients with a one-size-fits all approach.
Our clients have the opportunity to participate in designing a treatment program that is cutomized to meet their needs, empowering them to build a foundation for lasting recovery. In addition to providing both inpatient and outpatient rehab, we offer a number of specialized treatment components that can be combined to create a truly holistic program of recovery. 
A Look Inside Our Treatment Centers
About All In Solutions
Taking the first step towards recovery can be daunting, but All In Solutions is here to provide the world-class care you deserve to achieve recovery. Our facilities are designed to ensure our clients experience life-changing healing. The addiction treatment specialists at All in Solutions offer clients their knowledge, experience, and compassion to help them in their recovery journey.
Health Insurance May Cover the Cost of Treatment
Do you have health insurance? Find out if your benefits will cover you or your loved one at one of our addiction treatment centers.
All In Solutions Locations
What Makes All In Solutions Special?
Continued Support for Recovery. One-on-one case management, one-on-one alumni, support, one-on-one therapy, and one-on-one individualized treatment mixed with group settings enable our team to provide the most comfortable and successful path to recovery. Our specialty addiction treatment programs in Florida and New Jersey allow us to target the specific needs of our patients to provide them with efficient care, not generic care.
Every person that comes through our door has different scenarios, needs, and diagnoses that we take to heart. We are here to make our clients feel a part of our family and, in the end, a part of our giant alumni organization.
With help from the beginning stages of withdrawal to set foot back in the real world, All In Solutions provides support to guide individuals and their loved ones along the way.
All In Solutions introduced me to the recovery I have put into action today. I came into this facility completely broken with no hope and in turn got introduced to a life today that I truly enjoy.
All In Solutions helped saved my life. They introduced me to a family I still have until this day. They provided a safe and loving environment in some of my darkest days.
The warm environment creates a space for clients to connect with staff to promote growth and explore underlying issues that perpetuates their addiction and unhealthy behaviors. Clients quickly see how staff is genuinely invested in transforming their lives. The program's design allows clients to break free from their darkness to transform their narratives into the life the have envisioned and most importantly, belief in themselves again.
I've been to rehab before, and of course, it's a business...but All In is different. Coming into treatment, I felt broken inside. However, I was welcomed and instantly felt a part of it. The counseling I have received here is much better than the other places I've been to. The center is beautiful and makes me feel at home. I can go to any staff member and feel noticed and important. They go above and beyond to help me. Cliche as it sounds, they loved me until I could love myself. Thank you All In!
The women at All In Solutions could not have helped me more. When I thought there was no hope the staff at this facility guided me to were I am at today. I could not be any more grateful for the time and effort that this team turned family put into me.
Great place to go if you need help with your addiction. Counseling and staff are very friendly and care about you as a client. They are connected with some sober living houses and provide a nice environment for recovery. Out of all other places, there is no other like All In Solutions. They help you out with tools and resources for living sober. If you need help and want a new way of life, go to All In.
I came to All In Solutions after another program where I detoxed. It was my first time in treatment. From the clinical staff to the housing staff, everyone showed a level of understanding and caring that I never knew existed. They were open, caring, loving, patient..it was a family from the moment that I came. They opened my eyes to concepts I would have never given thought to before. I would recommend them to anyone looking for help. The knowledge I am walking away with makes me feel prepared to change my life and live a better life than I ever imagined possible. Thank you again for all you have done!