Watching a loved one suffer and struggle with a substance use disorder is painful, especially if you've tried everything to help them. After researching and trying all these options, you may be looking at involuntary drug or alcohol rehab as a last resort. There's a lot to consider, but it's best to fully understand the protocol and all the resources at your disposal before you make a decision. Here's what you need to know if you want to force someone into rehab against their will.
How to Commit Someone to Rehab Involuntarily
Laws for involuntary commitment for addiction treatment differ by state. In Florida, there are two acts enabling law enforcement to detain individuals that may be a risk to themselves or others because of mental health or substance abuse issues. There are important differences between the two.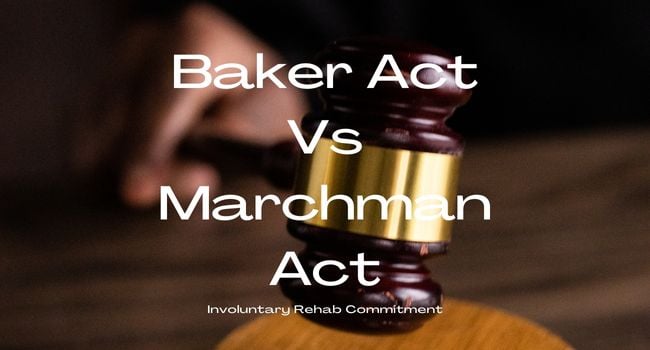 Florida Marchman Act
If a person is unstable or dangerous to themselves or others, Florida Statutes § 397.305, also known as the Hal S. Marchman Alcohol and Other Drug Services Act, allows for a person to be voluntarily or involuntarily assessed and committed for substance abuse. Following an assessment, an individual may be court-ordered to enter a substance abuse treatment facility.
Relatives and mental health practitioners can file a petition for an assessment. There is also a provision that any three adults with knowledge of the person's substance abuse can file. If the assessment is for a minor, the only people who can file a petition are parents, legal guardians, and a licensed service provider.
If you are one of these people for someone struggling with addiction, you can file a claim through this process:
Go to your local Clerk & Comptroller's office. Fill out a sworn affidavit or petition for the assessment and treatment of your loved one. You will be asked to fill in some details to help the authorities find and identify them, as well as information about this person's behavior.
Your loved one will be notified and asked to appear in court. You will be offered to testify to their behavior and the effects of substance abuse on their lives. Your loved one will also have the opportunity to testify.
The judge will sign an order granting the petition. If your loved one meets the qualifications stipulated in the Marchman Act, the court will notify them of their assessment appointment. Those who don't show up to testify for themselves in court and meet the criteria will be taken to their appointment involuntarily.
An assessment is performed within 5 days of the judge's decision. If the service provider conducting the assessment decides that your loved one meets the criteria for involuntary rehabilitation, they will be summoned to a hearing where a magistrate will decide the length of their stay.
Baker Act vs. Marchman Act
The Marchman Act isn't the only means for rehabilitating a loved one. While the Marchman Act strictly applies to substance abuse, the Baker Act applies to mental health crises.
Per Florida Statutes § 394.453, a person may be voluntarily or involuntarily assessed and rehabilitated for mental health issues. The Baker Act also stipulates that the person in question may be a threat to themselves or others without treatment. There are a few other reasons a person may be subject to the Baker Act, however. These include:
They are mentally or emotionally disabled to the point they cannot understand or control themselves or their actions.
Other measures have been taken to voluntarily commit them, and they have refused because of mental illness.
They refuse to voluntarily commit themselves because they are unable to understand why they should receive treatment.
They are at risk of personal neglect because of their illness.
The process for filing a petition for assessment and rehabilitation is slightly different in the Baker Act. The process for involuntarily committing a loved one is as follows:
Go to your local circuit court and issue an ex parte order.
After the judge grants the order, a law enforcement officer will take your loved one into custody and to a facility for safekeeping.
Within five days, a hearing will take place during which the court will consider whether the person in question is mentally or emotionally competent enough to give consent to treatment. If they are not, they are appointed a guardian advocate who can act on their behalf. This is most often a family member, caregiver, or friend.
If the court decides your loved one meets the criteria for involuntary committal, they will be sent to a facility for at least sixty days.
There are other ways a person can be involuntarily committed, including through the recommendation of a mental health professional or emergency medical practitioner.
Do Other States Have an Equivalent to Florida's Baker Act?
In the United States, most other states have an equivalent to the Baker's Act, though the terms and process vary wildly between them. This process is also referred to as Assisted Outpatient Treatment (AOT), and currently, 47 states have procedures for it.
If you are not a Florida resident and are looking for ways to help a loved one with mental health or substance abuse issues, and they will not receive help voluntarily, look into the requirements for AOT in your state. You can find a state-by-state breakdown of involuntary commitment laws here.
How to Convince a Loved One to Get Help
Committing a loved one against their will can be a life-saving last resort. However, as a family member or friend, you should make sure they are offered the opportunity to change on their own first if they are capable. The following suggestions could help encourage your loved one to seek treatment for drug or alcohol abuse. 
Consequences, Ultimatums, and Interventions
One of the most important steps in convincing someone with addiction or mental health problems to receive help is to make sure you're not enabling their self-harming behaviors.
First, allow your loved one to experience the consequences of their actions. Of course, if they are putting themselves or someone else in harm's way, it's time to seek emergency help. However, it's important that you don't make all of their problems go away. This could include:
Allow them to get arrested.
Don't bail them out of jail.
Don't give them money to pay the electricity bill.
Instead, offer them exchanges. For example, don't give them money to pay the bills, but you can offer them a place to stay while they get help. Don't give them money, but offer to pay for their treatment if that's what you're willing and able to do.
Ultimatums are a useful tool to help set boundaries with people who are becoming a danger to themselves and others. It also protects you from having any part in their self-destructive behavior, even by accident.
Here are some examples of ultimatums:
If you don't accept help, you cannot see your daughter for her own safety and well-being.
For the sake of the mental and emotional health of the household, you are not allowed to stay here until you agree to treatment.
Until you agree to talk with a counselor, I cannot continue to take your phone calls.
Finally, host an intervention in which you can lay down these ultimatums and lovingly express your concern for your loved one. An intervention should, above all, be a safe, un-blaming, love-filled gathering with people who want to help.
Plan what you want to say thoroughly, use a mediator if necessary, and make sure that you do not make yourself a victim by casting blame. Pose your concerns, say how their behavior affects you, offer ultimatums, and ultimately, convince them to get help.
There are many ways to help a loved one battling addiction or mental health issues, but laying down boundaries to protect yourself, your family, and your loved one is essential.
How do you check someone into rehab?
When you're helping someone to check themselves into rehab voluntarily, you want to research things like rehab centers, payment, and the type of treatment your loved one can and should receive. All of these things will help you make an educated decision.
Finding an addiction treatment center: things to consider
As with any institution that provides a service, you'll want to thoroughly research the center you're considering. Here are some things you might want to pay attention to:
Ratings: Reviews are the lifeblood of any institution. People trust word of mouth for a reason. Look at the kind and quality of reviews. Are they positive? Did they or their loved ones experience success in their program?
Accreditation: Most rehab centers have their accreditations in stickers on their home page, or in their about section. Look for accreditation with the Joint Commission and the Commission on Accreditation of Rehabilitation Facilities (CARF).
Treatment programs offered: Do they offer treatment for your loved one's mental health condition or addiction? If they do, how diverse are their offerings? Programs with a wide variety of offerings may be preferable to centers with only a few kinds, as treatment should never be a one-size-fits-all approach.
Insurance, Grants, and Payment Programs: Free treatment is very rare; however, finding an institution that will accept your insurance or even allow you to apply for a grant can help significantly reduce or eliminate up-front costs. Before looking into programs, make sure you know how insurance might cover rehab.
Levels of care: The intensity and duration of care vary depending on the risk and need of the person seeking care. The levels of care from most intense to least intense are Inpatient Detox, Residential, Partial Hospitalization, Intensive Outpatient, and Outpatient care. If you're unsure about what level of care your loved one needs or what kind of treatment would benefit them, be sure to provide plenty of information during your consultation about the needs, behaviors, and risks your loved one and your family are experiencing as a result of their mental health or addiction issues.
If you or a loved one are interested in learning more about the treatment programs offered at any All In Solutions treatment centers, don't hesitate to reach out to our admissions team. Our treatment advocates have years of experience in helping family members get their loved ones into rehab and can help you explore all the options available to you.